With the full power of WooCommerce right out of the box, create the online store that you want.
Activate your site online and you'll have a maintenance free store with the full range of extensions ready to go.
Build an online store that's fast and without limits.
So you can focus your time on promoting your products, gaining customers, and earning more money.
Never worry about data loss, low bandwidth, updates, or upgrades. It's maintenance free!
Easily activate free, pro, & premium plugins directly from the library without paying subscription fees.
The popular Divi Visual Builder Theme and Astra Pro  are built-in from day one.
230+ ready to import websites! Conversion optimized made with Astra and your favorite page builders.
Create the shop you want with the full range of WooCommerce extensions right of the box.
Go Clean and Fast With The Astra Pro Theme For WooCommerce
Included With All Plans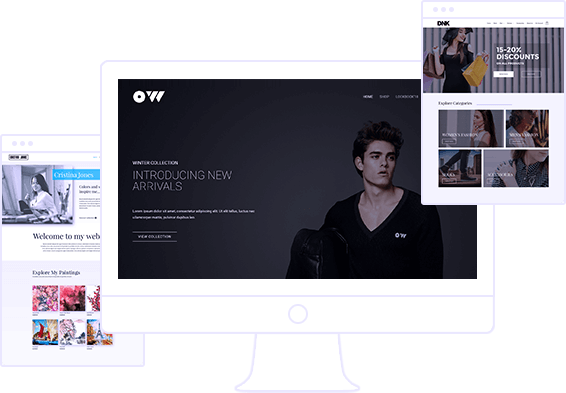 Fire up a pre-built site and make it your own with the Astra Pro Theme.
Astra Pro starter templates give you access to a variety of free, pre-built WooCommerce store websites. Activate a pre-built site, make it your own, and start getting sales!
Sell Photos Online The Easy Way.
WooCommerce Photography
Included With All Plans
Sell photos in the blink of an eye using this simple as dragging & dropping interface.
WooCommerce Photography is a tool designed to assist professional photographers with the day to day management and sale of their images for events, or as artwork. From the uploading and setup of photographs to the sale and customer purchase experience, WooCommerce Photography streamlines this entire process and gets you set up in the blink of an eye.
Capture More Customers.
WooCommerce Bookings
Included With All Plans
Give your bookings a boost with Bookings Availability, Product Add-Ons Integration, and Elementor Connector.
Allow customers to book appointments, make reservations or rent equipment without leaving your site. Connect the most powerful plugins in WooCommerce (included) to design the Bookings website you've always dreamed of!
Advanced Product Configuration
Gravity Forms Product Add-ons
Included With All Plans
Create product add-ons using the powerful form building capabilities found in Gravity Forms.
With the Gravity Forms Product Add-ons extension, advanced product configuration forms can be built and linked to any product in WooCommerce. Forms that contain conditional logic, pricing fields, user input prices, conditional-pricing fields, conditional submit button logic can all be created for your products.
All The Essential WooCommerce
Extensions to Launch Your Business.
Simply Activate, no installation
Extend your store features by activating built-in extensions right from the dashboard.
Grow your business with hundreds of included WooCommerce extensions across all your logistical, technical, and marketing needs.
Payments
Merchandising
Store Customization
Shipping
Marketing
Conversion
Customer Service
Store Management
WooCommerce Hosting Features
Secure, Fast, Simple.
Our WordPress Platform comes with a stack of web hosting features to create websites like from the future.
I've tested so many ways of creating websites and never found the right fit until I started using OPTe. It's perfect for me because I love WordPress, but struggled a lot with hosting and deciding what plugins to use or pay for."
No installation, all plugins I need in place and no maintenance, OPTe is managing my WordPress, how great is that! And I can focus on my photography!"
Easy to start,
with unlimited growth.
We strive to provide the highest value at the lowest cost by combining cutting edge building blocks with an all-in-one platform, everything your site needs at one all-inclusive price.
Frequently Asked Questions
Don't hesitate to reach out and ask us about anything.
What is OPTe Network?
OPTe Network is a website hosting service that combines cutting edge building blocks: Fully-optimized WordPress hosting, top-rated themes, best-in-class plugins, & expert support, all at one low price.
Anyone can simply activate a new site online and start designing within minutes bypassing: technical learning requirements, sourcing themes and plugins, troubleshooting errors, and paying add-on software and maintenance fees. Cool huh?!
Which product is best for me?
PERFORMER is suitable for anyone who wants to create a personal, professional, or business site of their own. Design something unique and amazing with the Divi visual drag & drop theme.
DESIGNER is made for freelance professionals and micro teams who create feature-rich sites for their clients. Stage a site and publish on OPTe Network or migrate to stand-alone.
TRADER is dedicated WooCommerce hosting to sell your products online.
Can I try out before purchasing?
You sure can! You can stage a Designer site for free up to 30 days. Additionally there is a 14-day money back guarantee.
Is web hosting included with my website?
All OPTe Network plans, including the staging plan, come with fast, secure, and reliable managed hosting.
Can I move my WordPress website to OPTe?
Do you register domains?
Not at this time. You can easily point your own domain name to your site from the dashboard, we are happy to do it for you too.
Can I get an email account?
We don't offer email hosting, you can purchase private email accounts at Namecheap.com. Free domain email forwarding is provided by CloudFlare.
What if I want a theme that is not on OPTe?
If you want us to add a Theme (or Divi Child Theme) that is not in our library, please
send us a request
.
If you're migrating over your website and your current theme is not on OPTe, perhaps it's time to upgrade to the Divi Theme or Astra Pro Theme.
What if I need a plugin that is not in the library?
Not a problem, we actively maintain a fresh supply of powerful plugins for our customers. If you discover a plugin that you would like us to add, please
let us know
and we will add it to our collection or provide you with a better alternative.
More
Do I need a caching plugin?
No and we purposely have left them out. OPTe utilizes server side caching technologies and performs optimally with CloudFlare. CloudFlare's free service provides additional optimization tools such as a Content Delivery Network, JS/CSS compression, and Automatic Platform Optimization.
Can I create multiple sites across all products i.e. Performer, Designer, or Trader?
Yes. Your user account works across all OPTe products and sites, which are all accessible from your WP dashboard.
Can I talk to support even if I'm not a current customer?
Of course! Visit our
support page
and select 'Pre-sales questions'.
The most customizable eCommerce platform for building your online business.
Activate your site online and you'll have a maintenance free store with the full range of extensions ready to go.